What is Paint in Window Accessories and Utilities?
Here Information help us to know what is Paint in Window Accessories and Utilities and its uses.

Do you have similar website/ Product?
Show in this page just for only $2 (for a month)

What is Paint in Window Accessories and Utilities?
Paint:
Windows provides an accessory to make small drawings of your own. They can be made freehand, or by using definite shapes and you can fill colors in them. To use Paint:
Click Start
Select All programs--> Accessories--> Paint
The Window looks like given below: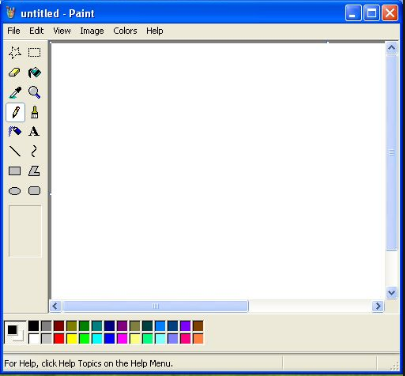 It is also a menu-driven application. It also has a toolbox with tools to draw - definite shapes, geometric shapes, freehand drawing, write text, fill color, erase, spray paint and make straight lines. Using these tools you can make a drawing of your own it also has a color box so that you can select the color of your choice for lines or for filling.
File Menu - Anything you draw in blank area is treated as a file and hence you can create a new file, save a file, open previous file and close a file using File Menu.
Edit Menu - Simple edit options are available here.
View Menu - It is used if you want to turn on/off view of toolbox, color box and status bar.
Image Menu - It provides interesting options for your drawing.
Colors - It works same as Color Box.
Help - It provides help on use of Paint.
Windows Accessories and Utilities- Paint.
Kinnari
Tech writer at NewsandStory