Microsoft Word is a word processing Application designed to help you to create Professional-looking Documents.

Do you have similar website/ Product?
Show in this page just for only $2 (for a month)

What is Microsoft Word
?
Microsoft Word is a Word Processing Applications helps us to designed and create Professional-looking Documents such as Newsletters, Reports, Brochures and letters.
In short, Word allow users to produce different types of Documents depending upon the situation and need. With help of MS-Word you can create professional-looking documents that you can use in your Academic and Professional Careers.
Starting Microsoft Word
Click on Start Menu-> Programs-> Microsoft Office-> Microsoft Word. Or click on the Microsoft Word icon on your desktop.
MS-Word Interface
The picture below shows the first screen you see when you open Word.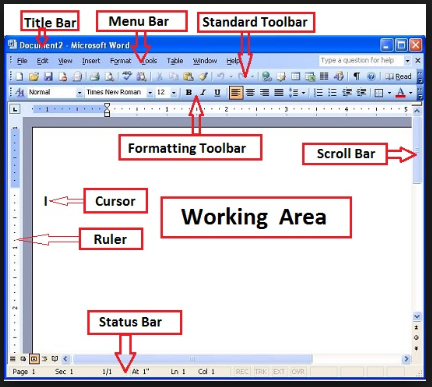 Title Bar: It is topmost on the screen. It displays the name of the document on which you are currently working.
Menu Bar: Generally found directly below the Title bar. The Menu bar displays the menu. The Menu bar begins with the word File and continues with Edit, View, Insert, Format, Tools, Table, Window, and Help.
Toolbars: Toolbars provide shortcuts to menu commands.
Text Area: You type your document in the text area. The blinking vertical line in the upper left corner of the text area is the cursor. It marks the insertion point. As you type, your work shows at the cursor location.
Getting Started Pane: You can create a new document, or open an existing open to start using word. It can be closed because all work can be done by other options.
Status Bar: The Status bar appears at the very bottom of the screen and provides such information as the current page, current section, total number of pages, inches from the top of the page, current line number, and current column number. The Status bar also provides options that enable you to track changes or turn on the Record mode, the Extension mode, the Overtype mode, and the Spelling and Grammar check.
Rulers: The ruler is used to change the format of your document quickly.
Microsoft Office- Microsoft Word.
Kinnari
Tech writer at NewsandStory