What is Autofill feature of Excel?
Here Steps help us to understand about Autofill feature of Excel.

Do you have similar website/ Product?
Show in this page just for only $2 (for a month)

What is Autofill feature of Excel?
Steps to Open Microsoft Excel:
Click on Start button on the Windows desktop.

Select the Programs option from the Start Menu.

Move the cursor to Microsoft Excel in the Programs menu and click the left mouse button. The Excel window opens on your monitor's screen.

The Autofill feature of Excel allows you to enter a predefined series of text or numbers quickly.
To create a Numeric data series:
Place the pointer in the first cell from where the data series has to begin.
Enter the first value in the first cell, for example, 1.

Enter the next value in the next adjoining cell, for example, 2.
Select both the cells.
Place the pointer at the corner on the border of selected range, (the pointer changes to a + sign).
Drag it to cover the area where you want the cells to be filled with the series.
The cells covered are filled with a series of numbers as shown in the figure.
Similarly, a text series can also be entered, for example, Monday, Tuesday, and so on..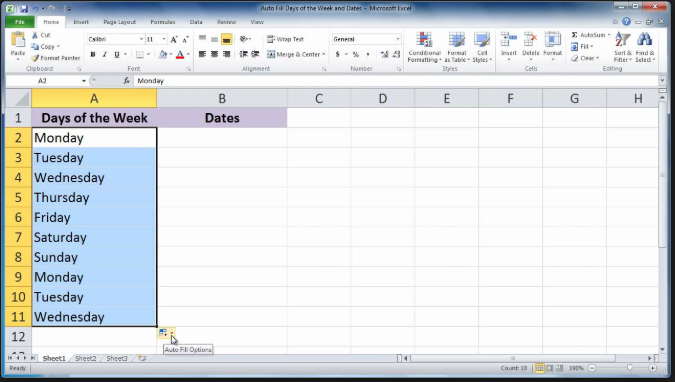 Microsoft Excel- Autofill feature.
Kinnari
Tech writer at NewsandStory