Book and Confirm Tatkal Tickets within seconds on IRCTC
"Oh Snap! Now we need to book the Tatkal tickets to Bangalore", well this is a case scenario when every Indian needs to book the Tatkal train tickets, and the reaction is this way because people face a lot of inconvenience to book Tatkal train tickets. You can either book Tatkal tickets from railway ticket counter or from www.irctc.co.in. This is the only site where you can book your Train tickets. <br>

Do you have similar website/ Product?
Show in this page just for only $2 (for a month)

Book and Confirm Tatkal Tickets within seconds on IRCTC
?Oh Snap! Now we need to book the Tatkal tickets to Bangalore?, well this is a case scenario when every Indian needs to book the Tatkal train tickets, and the reaction is this way because people face a lot of inconvenience to book Tatkal train tickets.
You can either book Tatkal tickets from railway ticket counter or from www.irctc.co.in. This is the only site where you can book your Train tickets.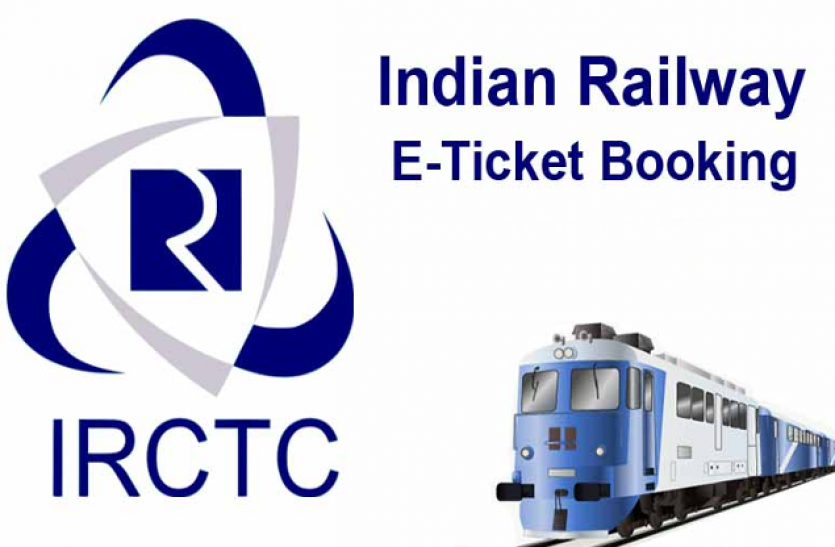 Tatkal Booking is a facility provided by IRCTC (Indian Railway Catering and Tourism Corporation) for people who need to book a train ticket at short notice. However, due to limited seats and huge demand, the booking process often leads to frustration among people. Though people go and stand in long queues for hours but even after doing so it is not certain that one will get a ticket for sure. To avoid these long queues, people try to book the tickets online.
If you get the confirmation of the Tatkal ticket then consider that the stars are in your favor, it?s not easy to book a Tatkal ticket from IRCTC, as there are only a few seats and most of them get booked in few seconds of Tatkal booking start.
Here are a few things that one should follow to book Tatkal tickets within seconds-
Confirm the following things before hand and make sure you have a good internet connection.
(Identity Card, Bank Account Number, Debit card number.
Destination, Train name and number, number of passengers and their information).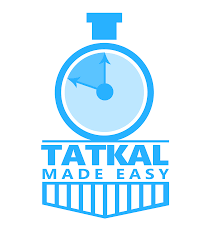 You can only book 2 Tatkal tickets a day and a maximum 6 tickets a month from one account of IRCTC.
? Type all the details in Notepad: Passenger name, age Id, phone no, payment details like card no etc. this will make your working faster during Tatkal booking as you do not need to type. Some fill up browser plugins and software like Magic Auto Fill and Adblock Plus can also be used.
? While booking Tatkal Ticket, you need to have valid id proofs and you must carry these proofs during your journey, without these id proofs your ticket will be invalid.
? Tatkal booking timing is 10:00 AM for AC Class and 11:00 AM for Sleeper class daily for one day in Advance i.e. if you want to book ticket for tomorrow then its booking will start today at 10 am. Just get up 20 Minute earlier and open Magic Auto fill and fill up all your details there and create a bookmark. After you have selected the train it will load the passenger detail form. Now click on the Bookmark that you had created earlier. It will fill up all your details. Now fill the Captcha and make the payment.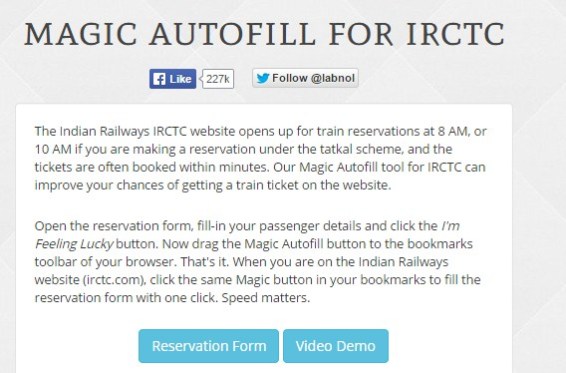 ? Another trick that you can use is collecting the station codes 10 minutes before the opening timings of booking at 10 am; this can be done from the official Indian railway site (
www.indianrail.gov.in
). Now login into your IRCTC account, fill in the details of your journey and check availability, click on the book button and now you are on the passenger personal information page, now here the trick comes in, 5 minutes before this step Google search IRCTC Autofill and fill in the details of the passengers before hand, now click on I?m feeling lucky and this will generate a magic autofill. Bookmark this and now go onto the IRCTC website, fill in the station codes and when the passengers? information page opens up just click on the Magic Autofill bookmark. You have just saved a lot of time.
? There is one way more to book Tatkal tickets, first of all download a chrome extension, Tatkal For Sure, and add it to chrome. Now login through your IRCTC user id and password on this and fill in the details of the journey and passengers. It also offers you to add in your card details to safe more time or you can skip this step. At the end it will create a draft ticket for you. Now when the booking starts at 10 am, click on Book now, you will be directed to the Captcha page, just enter it and make the payment. Voila! Your confirmed Tatkal ticket is booked in just 30 seconds.

Tatkal Charges
Tatkal charges depend on your category and base fare, they have different Tatkal fees according to your category and base fare. If you want to cancel a Tatkal ticket, no refund will be given. So, book the ticket responsibly.
Tatkal Charges for Second Class (2S): 10% of base fare
For Sleeper Category (SL): 30% of base fare
Tatkal Charges for Third AC (3A): 30% of base fare
T-Charges for Second AC (2A): 30% of base fare
Tatkal Charges for First AC (1A): 30% of base fare
Keep your Calm while booking the tickets, patience is above all, stay calm, breath heavily and do it, with a peaceful mind. .
Sandeep Semwal
Content Writer