DJI Osmo pocket v/s the GO Pro 7
The war of the action cameras has finally begun, the Go Pro Hero 7 was launched in October and now DJI has played its cards by unveiling the DJI Osmo pocket. When Hero 7 was launched it was considered as the 'Gimbal Killer', but with the launch of Osmo pocket, the 'Go Pro Killer' might just be the perfect name for Osmo pocket. Let us check out more about the two cameras in this article

Do you have similar website/ Product?
Show in this page just for only $2 (for a month)

DJI Osmo pocket v/s the GO Pro 7
The war of the action cameras has finally begun, the Go Pro Hero 7 was launched in October and now DJI has played its cards by unveiling the DJI Osmo pocket. When Hero 7 was launched it was considered as the ?Gimbal Killer?, but with the launch of Osmo pocket, the ?Go Pro Killer? might just be the perfect name for Osmo pocket.
Let us check out more about the two cameras in this article.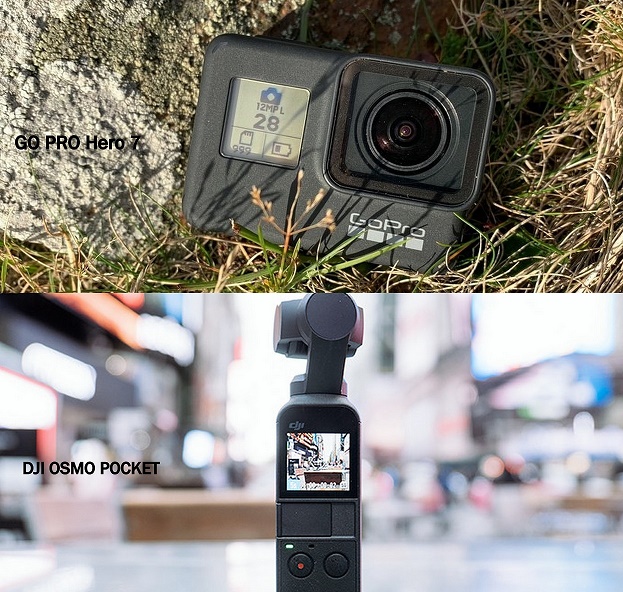 Hero 7 and Osmo Pocket are two different types of cameras, Hero 7 is small and compact as the size of its other Go Pros while Osmo Pocket is a tiny camera attached with a small 3-axis gimbal which easily fits in your pocket. Go Pros can be fixed while taking action shots but with Osmo pocket?s gimbal, your hands might be occupied a little.
In scenarios like sports or adventure activities, Go Pro does its job to perfection as it is typically used due to the fact that it is small and convenient. Go pro with its electronic video stabilization presented Hero 7 as the gimbal killer and it is its best feature yet. Go pro has high hopes to be the machine of the year, but with Osmo pocket in the game, things are hard to say.
Osmo pocket on the other hand, is rectangular in shape because of the three inch gimbal; it is the smallest 3-axis mechanical handheld gimbal. DJI promises video stabilization that shows that there is still no match for an actual gimbal. Osmo pocket also doesn't just let you shoot smooth, cinematic footage. With access to several intelligent functions like Active Track (Subject tracking), Motion lapse, and 3x3 Panorama, Osmo Pocket unleashes your creativity with impressive effects that are impossible with smart phones.
When we talk about specifications, both cameras have a 1/2.3? sensor with the ability to shoot 4K video at 60 frames per second. The Osmo Pocket does have a stop wider aperture, though, at f/2.0 v/s the Hero 7 Black?s f/2.8, theoretically making it better in lower light. If you?re doing things at night, the DJI Osmo Pocket is the clear and absolute winner.
Hero 7 can be taken underwater, while DJI Osmo pocket comes with an external case to take it underwater. Go Pro offers its best when it comes to extreme sports activities even when it is in contact with water, while Osmo pocket performs best when it comes to stabilized cinematic video and low light work.
Priced at 399$ Hero 7 comes with a 64 GB SD Card, while Osmo Pocket is labeled at 349$ without an SD card.
Sandeep Semwal
Content Writer