ADVANTAGES AND DISADVANTAGES OF USING FRAME
Here, we discuss about the advantages and disadvantages of using frame in html in detail as follows-

Do you have similar website/ Product?
Show in this page just for only $2 (for a month)

ADVANTAGES AND DISADVANTAGES OF USING FRAME
Before we start discussing about Advantages and Disadvantages of using frames, we firstly understand what is frame?.
What is Frame?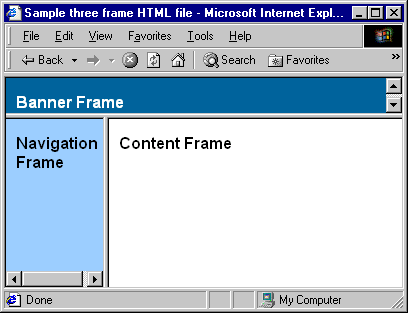 The facility in HTML to decide the page into two or more section is called frame. Here in each section one document is displayed.
Now, we will discuss about the Advantages and disadvantages of using frame as follows
-
Advantages of using frame:
We can display multiple pages in a single window.
Frame provides an excellent tool to create dynamic layouts and efficient navigating systems.
Frame enable some contents of the page to remain static and other contents to keep on changing.
Frame enable us to create among other things a navigation bar that never moves, pages that load faster, permanent reserved space for the site's logo or banner.
Due to frame the downloading time is less because images and other static details need not be loaded with each and every page.
Disadvantages of using frames:
Although frames are useful tools, one will have to be very careful in maintaining the number of frames and links.
When the contents of all the frames of a page is changing now and then, frame will take more time to download.
The search engines do not deal with frames properly. i.e. the search engines do not index the pages containing the frames as it is hard for them to search for a specific content and move backwards to check to which frameset each page belongs to and retrive all the pages in the frameset.
We cannot bookmark individual pages using browser's favourite menu if they contain frames.
It is difficult to print the content of all frames when compared to a normal web page.
Due to frames the space on screen to see each document will be smaller. Also it should be remembered that still there are browsers that don't support frames.
ADVANTAGES AND DISADVANTAGES OF USING FRAME
Kinnari
Tech writer at NewsandStory