Fitness with a step platform
A step platform is a part of aerobic fitness accessories. These step platforms are popular around the globe for step board exercises. The step platforms come with a premium comfortable cushion to make your step board exercises easy and effective. They also have risers which slightly increase the height of the platforms and prevent them from slipping. You can use these anti-skid risers on floor or carpet; they do not leave any scratches behind. The step platforms are recommended for everyone from beginners to intermediates as one can perform many aerobic exercises on them.

Do you have similar website/ Product?
Show in this page just for only $2 (for a month)

The step platforms can be found in gyms and other fitness associations or health clubs. But people can also keep them in their houses for exercising as they occupy very minimal space. Place your step platform in any corner of the house and it will feel just right.
Features of a step platform
? They are generally made of high density polythene that is recyclable and last for a long time.
? It is topped with a non-slip cushion.
? The risers provide good grip to the step platform.
? The platforms are usually made of plastic
? Almost all the step board exercises tools are adjustable in height. Benefits of step board exercises
You can perform many exercises on your step platform ranging from lunges to cardio workout. The step board exercises increase your heart beat and rate of breathing. As a result, your body sweats. The best part about step board exercises is that they are suitable for people of all ages and fitness standards. Some benefits of these exercises are:
? You can also strengthen your biceps and triceps or the lower body by doing push-ups.
? There are many exercises that can be performed to tone your body, specifically the chest and the back.
? Cardio exercises prevent high blood pressure and heart related disorders.
? Your muscles and bones grow stronger with time.
? It improves body balance, agility, and co-ordination skills.
? Increases the Body Metabolism Rate (BMR).
? Cardiovascular exercises prove to be a mood booster and keep one away from depression, anxiety, and other such disorders.
? Step board exercises certainly help you in losing weight. The step board exercises are teamed up with music for better results.
Common moves in step board exercises
Some common moves in the step board exercises appropriate for all are:
? Basic step: You just need to pretend you are climbing stairs.
? Triple knee: Move your knee back and forth repeatedly while keeping your torso bent forward. This is also known as repeater knee step because of the continuous rhythmic movement of leg.
?
T-step:
You make a T-shape with your feet and move the back foot and toe of the front foot simultaneously. Then place your back foot to the original position while rotating the heel of the front foot to return to the initial position.
?
Lunges: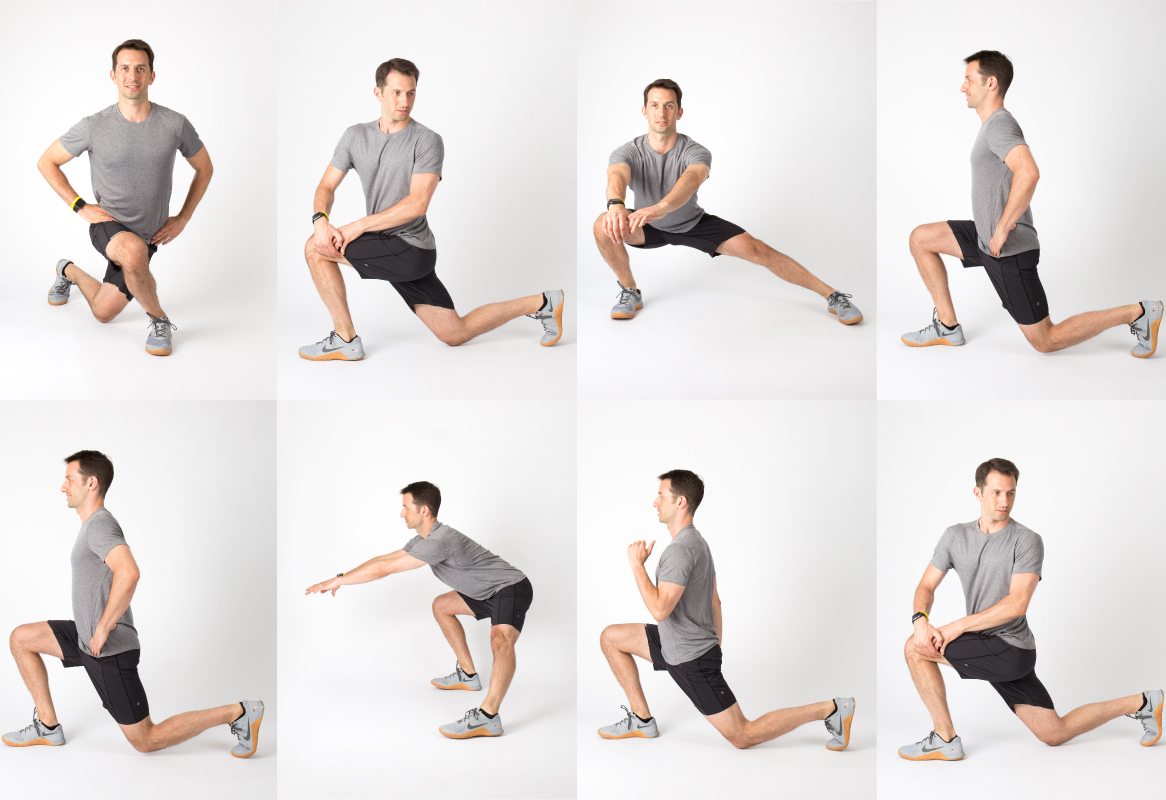 This is a single leg exercise that tones your hips, hamstring, core muscles, and inner thigh. They are considered to be even more effective than squats.