Walmart planning to buy 50% stake in Flipkart
Talks of the Walmart-Flipkart deal are reaching every ear of the stock market community and this deal is very crucial also for Flipkart's rivals such as Amazon and Alibaba backed PayTm Mall. The Sachin Bansal and Binny Bansal Company is currently valued at $11.6 billion and if the US retail giant Walmart acquires a big stake in Flipkart then it would catapult Flipkart's valuation to $20 billion, almost double of what it is now. <br>

Do you have similar website/ Product?
Show in this page just for only $2 (for a month)

Walmart planning to buy 50% stake in Flipkart
Talks of the Walmart-Flipkart deal are reaching every ear of the stock market community and this deal is very crucial also for Flipkart?s rivals such as Amazon and Alibaba backed PayTm Mall.
The Sachin Bansal and Binny Bansal Company is currently valued at $11.6 billion and if the US retail giant Walmart acquires a big stake in
Flipkart
then it would catapult
Flipkart
?s valuation to $20 billion, almost double of what it is now.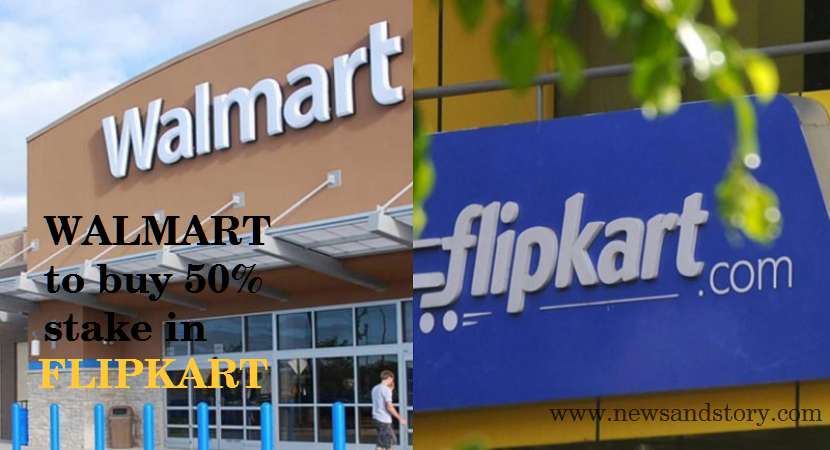 According to sources said, the US retail giant looks to take a controlling stake of 51 percent or more in the Indian company. Walmart is looking to pour about $10 billion to $12 billion for the stake that would value
Flipkart
at roughly $20 billion.
Walmart completed a thorough due diligence process on e-commerce firm
Flipkart
this week; It has already floated a shareholder agreement, or offer proposal, and is looking to shell out about 20-26% stake and increase its shareholding to 51% in tranches.
Flipkart
is backed by the likes of SoftBank Group, Tiger Global, eBay, Accel Partners, Naspers, Tencent Holdings and Microsoft Corp.Flipkarts valuation jumped to $14.2 billion after it had raised capital from SoftBank in August 2017.SoftBank, which bought a 20% stake in
Flipkart
last August, is also mulling a partial exit after seeing the value of its stake nearly double within a few quarters.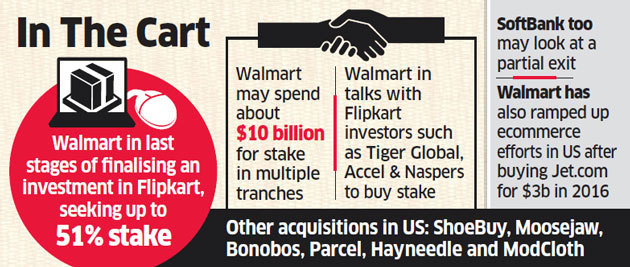 The Amazon Rivalry
This deal is a direct face-off between Walmart and Amazon, a stake in
Flipkart
would pit Walmart against Amazon.com in India and local media have reported that Amazon is exploring a rival offer for India's largest home-grown e-commerce player. Walmart is now seeking a bigger stake than previously expected.
Walmart's investment would give
Flipkart
not just additional funds to fight Amazon, but also arm it with a formidable ally with extensive experience in retailing, logistics and supply chain management.
Walmart could also aid Flipkart in developing its private label business, for Walmart a deal would open up a vast market and another front to take on its biggest rival. Walmart is initially not expected to rock the boat and is likely to retain top management. It may, however, look to bring in some of its own people on the legal and finance teams at Flipkart.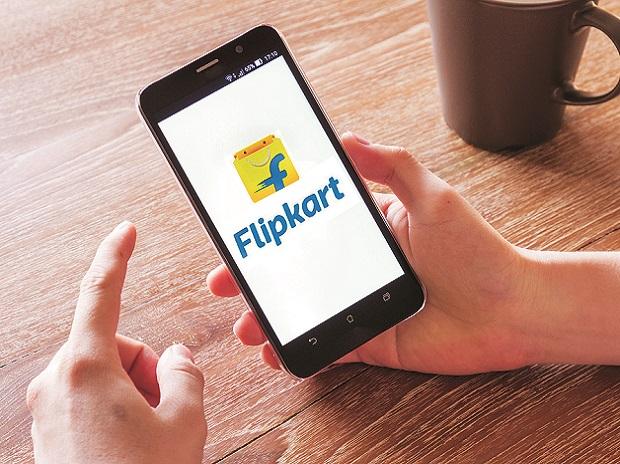 For Amazon, India is the most important market outside of the US after it failed to gain a foothold in China.
Industry experts said Walmart is a better for
Flipkart
as it has long-term plans for the Indian market across online and offline retail. The US-based retailer has been making investments to grow its online presence and counter Amazon's growing dominance in its home market with acquisitions like Jet.com. Flipkart?s talks with Amazon for a possible deal was first reported by business daily Mint on Wednesday. When contacted by TOI, Amazon and Flipkart declined to comment on the matter.
Sandeep Semwal
Content Writer