How to become a Chartered Accountant?
How to become a Chartered Accountant? THE VARIOUS STAGES INVOLVED IN BECOMING A CHARTERED ACCOUNTANT.

Do you have similar website/ Product?
Show in this page just for only $2 (for a month)

How to become a Chartered Accountant?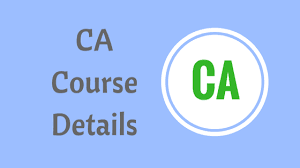 Chartered Accountant is a finance professional who can be the Financial advisor, Leader of your finance department, Chief Financial Officer to a company, Tax Advisor, Consultant for various Accounting and Financial issues, Guiding for Credit sanctioning by the financial institutes, etc. It is the profession that provides a professional highest level of position in society when it comes to regarding the intelligence. The world without a Chartered will never be able to handle the Finance and clarity of various laws whether domestic or foreign.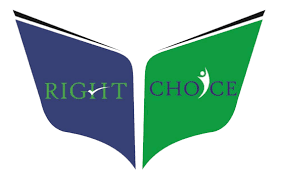 There are basically three stages to become a Chartered Accountant:
1.CLEARING CPT EXAM (COMMON PROFICIENCY COURSE): It is the basic exam that is a multiple choice question paper and is conducted in two half's each have equal weight of 100 marks and to clear that one has to gain 50% marks in total that means 100/200 to clear the exam. The exam is elementary and can be easily cracked if the concept of the child is clear considering the education imparted in class eleventh and twelfth. With that one can proceed towards the next stage.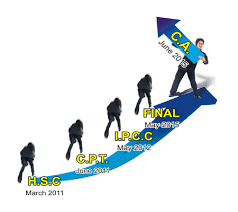 2.CLEARING IPCC EXAM (INTEGRATED PROFESSIONAL PROFICIENCY COURSE): This is the second and the middle stage and you can assume that you are one step away from becoming a Chartered Accountant. This exam is based on introductive knowledge of various topics which are sub-divided into seven separate exams of 100 marks each. To clear this stage, one needs to score 50% in total and 40% in individual subjects and then WELCOME TO CA FINAL. But before that, you need to complete two different that are provided by ICAI and they are paid training and a certificate is issued soon after you finish that and that will be submitted to get registration in CA Final Exam in case you have cleared the same.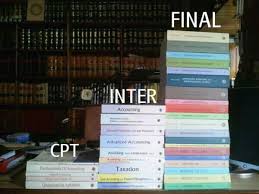 3.CA FINAL: A dream come true is just a myth. This is the toughest stage I must admit as on one hand if you cleared the world is the best place to be and if the things are another way round then the struggle is your synonym. Well. Entering the final and third stage in becoming a Chartered Accountant has the important aspect as the Articles which is for 2.5years as soon as you clear IPCC completely or clear first group of IPCC, you need to get yourself registered under a Chartered Accountant as their article clerk and finish up all formalities of paperwork as provided by ICAI on its official website. As soon as the period is completed then you need to register yourself for CA Final exam and appear for the same. As soon as you clear the exam, you need to complete GMCS training and now few amendments are adopted and this can be done in two half's one before and one after the exam clearance.
Above are the descriptive formalities but to become a Chartered one needs to give heart and soul. You cannot go clubbing, partying or anything when from you only one thing is expected to study hard and perform well. But as soon as you clear the same you will become the most influential personality in the society you live.
Benefits of becoming a CA can be tracked through this video:
Chartered Accountancy Course
ANAMIKA KHATRI
CONTENT WRITER