Key Points of 7th Pay Commission
A big pay hike for over a crore government employees and pensioners was cleared by the cabinet under the 7th Pay Commission. Under the new scheme, the maximum salary for a government servant was approved about 2.5 lakhs a month, that's more than double the highest pay of Rs. 90,000 a month. Let's check out more highlights-

Do you have similar website/ Product?
Show in this page just for only $2 (for a month)

Key Points of 7th Pay Commission
Pay Commission is set up by Government of India, and gives its recommendations regarding changes in salary structure of its employees. Since India's Independence, seven pay commissions have been set up on a regular basis to review and make recommendations on the work and pay structure of all civil and military divisions of the Government of India.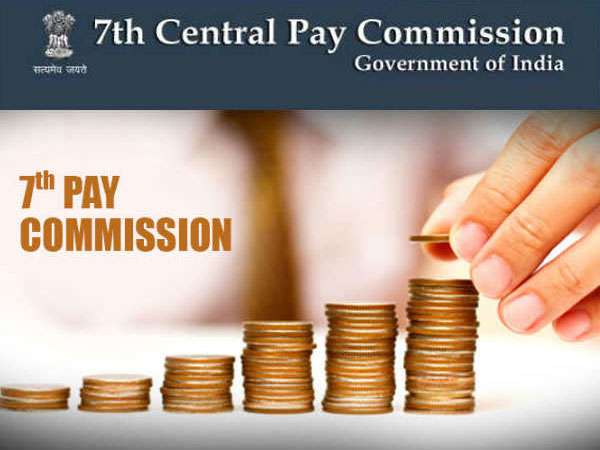 On 25 September 2013 then Finance Minister P Chidambaram announced that Prime Minister Manmohan Singh has approved the constitution of the 7th Pay Commission. Its recommendations were l implemented with effect from 1 January 2016 headed by Justice A.K Mathur.
Headquartered in Delhi, the Commission is given 18 months from date of its constitution to make its recommendations.
A big pay hike for over a crore government employees and pensioners was cleared by the cabinet under the 7th Pay Commission. Under the new scheme, the maximum salary for a government servant was approved about 2.5 lakhs a month, that?s more than double the highest pay of Rs. 90,000 a month.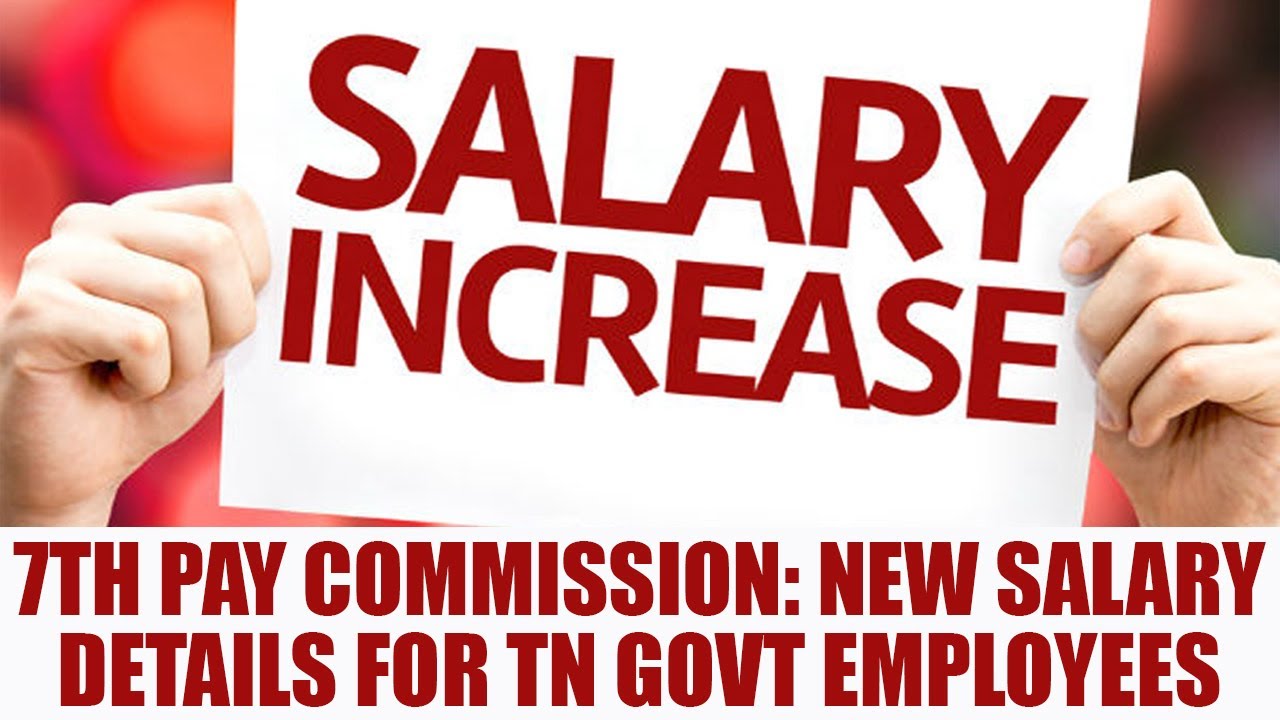 Let?s check out more highlights-
? Hike in Pay- Salary of a government servant was hiked; minimum Pay which was Rs. 7000 in the 6th Pay Commission was fixed at Rs. 18,000. The maximum pay was fixed at Rs 2.25 lakh.
? Pension and Transparency- In order to bring in greater transparency, the report has recommended replacing the present system of pay bands and grade pay with a new pay matrix. The Pay Commission recommended 23.55% overall increments in salaries, allowances and pension. However, the rate of annual increment retained at 3 %.
? MSP (Military Service Pay)- The Military Service Pay, which is a compensation for the various aspects of military service, will be admissible to the Defence forces personnel only. As before, Military Service Pay will be payable to all ranks up to and inclusive of Brigadiers and their equivalents. MSP rates are more than doubled to Rs 15,500 per month from Rs 6,000 currently; for nursing officers to Rs 10,800 from Rs 4,200; for JCO/ORs to Rs 5,200 from Rs 2,000 and for non-combatants to Rs 3,600 from Rs 1,000.
? Retirement- Short service commissioned officers will be allowed to exit the armed forces at any point in time between 7 to 10 years of service. They will further be entitled to a fully funded one year Executive Programme or a M.Tech. Programme at a premier Institute.
? Allowances abolished- Commission recommended abolishing 52 allowances; another 36 allowances subsumed in existing allowances or in newly proposed allowances. Allowances relating to Risk and Hardship will be governed by the newly proposed nine-cell Risk and Hardship Matrix, with one extra cell at the top, viz., RH-Max to include Siachen Allowance.
? CGHS (Central Government Health Insurance) - The Commission strongly recommended the introduction of health insurance scheme for Central Government employees and pensioners. In the interregnum, for the benefit of pensioners residing outside the CGHS areas, the Commission recommended that CGHS should empanel those hospitals which are already empanelled under CS (MA)/ECHS for catering to the medical requirement of these pensioners on a cashless basis.
? Ceiling of Gratuity- Ceiling of gratuity was enhanced from Rs 10 lakh to Rs 20 lakh; the Commission has also recommended that the ceiling on gratuity may be raised by 25 percent whenever DA rises by 50 percent.
? No change in any type of Leave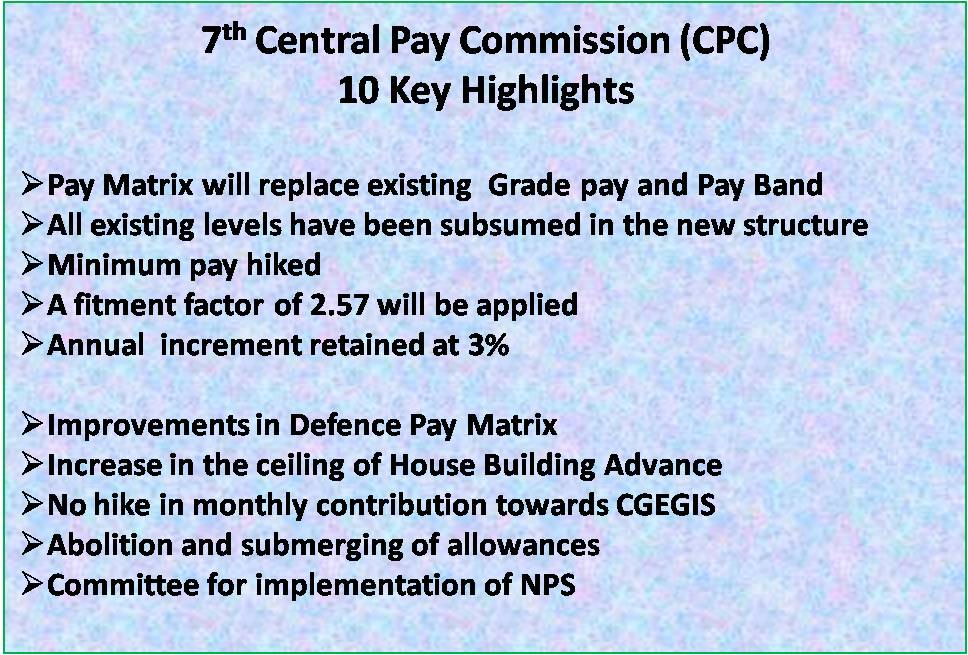 The Recommendations made in 7th Pay Commission have impacted 47 lakh serving government employees, and 52 lakh pensioners including Defence personnel.
Sandeep Semwal
Content Writer