Top 5 breathtaking treks to do in India
The untouched virgin lands of India are being explored by many people in the recent times. Trekking has come out to be a great escape to people who love to step into the wilderness. Earlier this was not common but now is the time of new enthusiasts and walking on trails and climbing on mountains has becoming a whole new recreation. Let us know about 5 treks in India which will take your breath away

Do you have similar website/ Product?
Show in this page just for only $2 (for a month)

Top 5 breathtaking treks to do in India
The untouched virgin lands of India are being explored by many people in the recent times. Trekking has come out to be a great escape to people who love to step into the wilderness. Earlier this was not common but now is the time of new enthusiasts and walking on trails and climbing on mountains has becoming a whole new recreation. The numbers of trekkers' in India are increasing day by day and new suitable places for trekking which are mostly untouched are discovered regularly.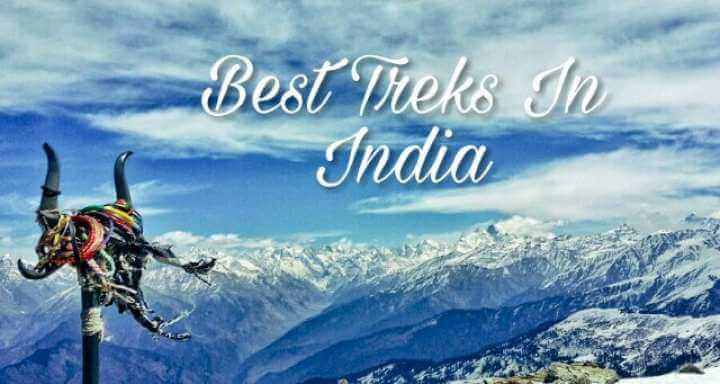 Depending on the geographical features of Indi, states like Uttarakhand, Himachal Pradesh and Kashmir in North India, offer the most beautiful trails in India. What else do you need when you are right where the Himalayas are?
Let us know about 5 treks in India which will take your breath away
1. Gangotri-Gaumukh Trek, Uttarakhand (Moderate)
Best time- May-June, Trek Distance- 24kms
This trek will first allow you to travel through Harsil, Uttarkashi and the holy shrine of Gangotri in the Garhwal region of Uttarakhand. This trek will then take you to the Gangotri glacier at Gaumukh, the source of the Ganges. In the middle the forests of Cheervasa offer a true natural delight, the region features a large diversity of plants and animals, including rare blue mountain goats. The glacier is surrounded by beautiful mountains on all sides, a truly mesmerizing sight to behold.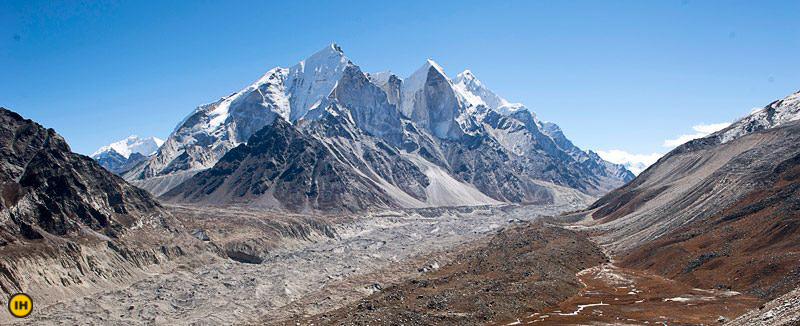 2. Chadar/Zanskar Trek, Ladakh (Difficult)
Best time – January-February- Trek Distance 105kms
'Chadar' is a hindi word which means 'sheet'; In this trail you will walk over the river Zanskar which freezer in the winters and in the night you will have sleep in caves. Zanskar Valley presents an intriguing yet challenging trek as it is most exciting high altitude treks in the world. The activity starts at Chilling and continues till Lingshed, from where you will have to walk on the frozen River Zanskar.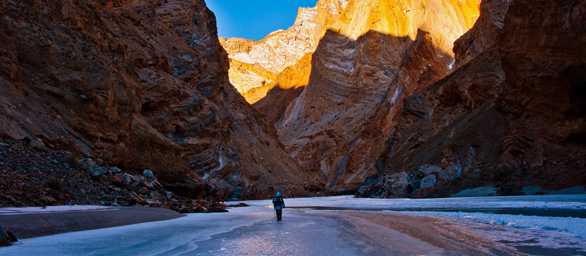 3. Chandratal Lake Trek, Himachal Pradesh (Moderate)
Best time- May-October Trek Distance 26kms
Moon Lake trek is an easy trail situated in Spiti valley, this high altitude trek taking place 14,000ft above sea level can be undertaken all year round and has its own captivating beauty. Chandra Tal Lake is just 6 kms away from the Kunzum Pass in Spiti and Lahaul district of Himachal Pradesh state of India. There is a legendary story associated with this lake. It is believed that this lake is located at a place from where the chariot of the god Indra picked up Yudhishthira, the eldest of the Pandava brothers. As a result, Chandra Tal is counted among sacred lakes of India and grabs the attention of lots of Hindu devotees. The color of water of this holy lake keeps changing from reddish to orange to blue to emerald green as the day ends.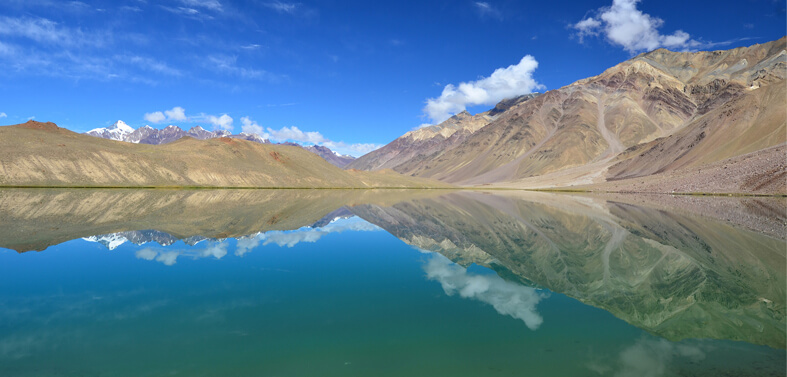 4. Valley of Flowers trek, Uttarakhand (Moderate)
Best time- July- September, Trek Distance- 14kms
It is one of the most beautiful treks in India and is also a UNESCO World Heritage Site; this exotic valley is transformed into a colorful kaleidoscope stuffed with wild flowers such as zinnias, petunias and poppies. it is a huge valley blooming with more types of flowers than one can possibly count It also hosts several species of butterflies and endangered animals such as the mountain leopard and blue sheep. A moderately challenging climb (the entire trek can take a week), the 10-kilometre valley is situated at approximately over 3,600 meters (above sea level). It is a spectacular site surrounded by beautiful mountains on all sides. The route has an 11 hour drive to Joshimath from Dehradun, then another one hour to Gobindghat. From Gobindghat it is a 13-kilometer trek along a steep, narrow, but well defined mountain trail to base camp at Ghangaria. This will take between 4 and 8 hours. From Ghangaria, another 3 km trek leads to the valley.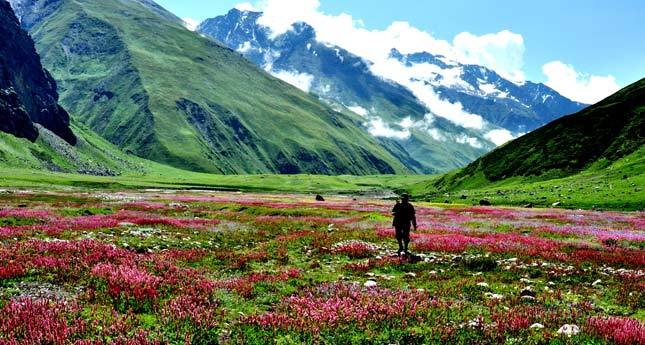 5. Roopkund Trek, Uttarakhand (Difficult)
Best time- May-October, Trek Distance- 50kms
Also known as the Mysterious Lake at an altitude of 5029 m Roopkund Lake is famous for the human skeletal remains found at its bottom. A journey to the remote Roopkund Lake takes you through pristine forests with rivers gushing below you. The lush greenery, the numerous birds of several species, the surrounding Himalayan peaks, the flat plains, the Hindu temples, all serve to make the trek to Roopkund a memorable experience. The journey begins at Lohajung, from there; the expedition will take you to places such as Didina, Bedni Bugyal, Bhagwabasa and Patar Nachauni.
Sandeep Semwal
Content Writer