Understanding the latest 5G Technology
5G also known as 5th generation mobile network technology, is a new global wireless communication standard after 4G network technology. 5G enables a new kind of network that has been designed to meet the very large growth in data and connectivity of today's modern society.
5G Technology: 
    5G also known as 5th generation mobile network technology, is a new global wireless communication standard after 4G network technology. 5G enables a new kind of network that has been designed to meet the very large growth in data and connectivity of today's modern society. 5G technologies are used to connect virtually everyone and everything together including objects, persons, devices and machines. According to various news and reports 5G technology will initially operates in conjunction with existing 4G technologies before evolving to fully separate network in subsequent development and coverage expansions.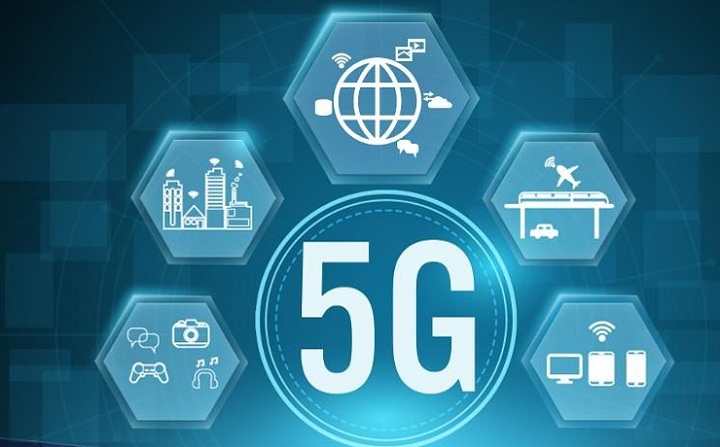 5G network technology is designed to deliver high data transfer speed, ultra low latency, massive network capacity, increase availability, and more reliable experience to number of users. Generally 3G technology has a response time of 100 milliseconds, 4G technology has a response time around 30 milliseconds and 5G technology is said that it will have a response time as low as 1 millisecond. 5G technology is designed for forward compatibility. 
Application of 5G: 
    The first application that a 5G technology will have is fixed wireless data transmission for homes, enhance mobile or tablet broadband services and wireless access modem and hot spot. 
• Enhanced mobile broadband: 
   5 G mobile technology can provide new immersive experiences such as VR and AR with faster speed, more uniform data rates, lower latency, and lower cost. 
• Critical communication services: 
   5G technology can enable users with new services that can transform industries with more reliable, available, low cost, low latency links like remote control of critical infrastructure or machineries, vehicles, and medical procedures. 
• Massive IoT usage: 
    5G is meant to uninterruptedly connect with a massive number of embedded sensors and IoTs through the ability to scale down in data rates, power, and mobility that provides extremely lean and low-cost connectivity solutions.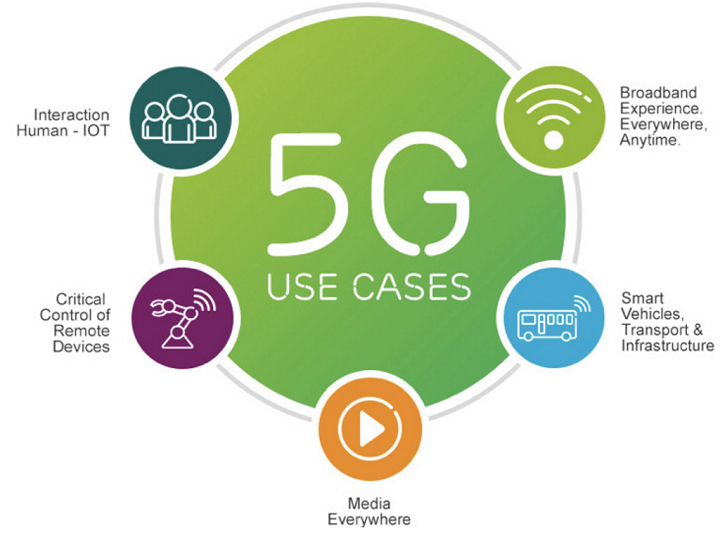 Difference between 4G and 5G technology:
| | | |
| --- | --- | --- |
| | | |
| Data transfer speed | Maximum download speed of 300 Mbps | Expected to achieve a download speed of 10 Gbps |
| Latency | It has a latency of about 30 millisecond. | It has a latency of about 1 millisecond. |
| Frequency | It uses frequency below 6GHz | It will use extremely high frequencies in between 30 GHz to 300 GHz |
| Capacity | Has less capacity than 5G technology  | Since 5G technology works with high frequency it will have more capacity |
Working of 5G technology: 
    Most network operators will initially integrate 5G networks with existing 4G networks to provide a continuous seamless connection. A mobile network mainly has two components, 
• Radio Access Network 
• Core Network 
    The Radio Access Network consists of different types of facilities and services including small cells, towers, masts and home systems that connect mobile users and other wireless devices to the main core network. 5G technology Cells will use multiple input, multiple output antennas that have multiple connections to send and receive more data simultaneously or continuously. 
    The Core Network is the mobile exchange network that manages all of the mobile voice, data and internet connections. In 5G technology, the 'core network' is designed to better integrate with the internet and cloud based services and also includes distributed servers across the network reducing latency and improving response times. 
What will 5G enable: 
    5G technology will enable simultaneous connectivity to multiple devices and the Internet of Things (IoT). 5G technology will provide high speed, low latency and efficient connectivity to enable a new generation of applications, services and business opportunities. Generally there are three major use cases for 5G technology, 
1. Machine to machine communications also called the Internet of Things that involves connection between billions of devices within a network without human intervention. This case is said to revolutionize modern industrial processes and business communications. 
2. Ultra-reliable low latency communications critically includes real-time control of devices, industrial robotics, vehicle to vehicle communications and safety systems. Low latency communications also opens up various new possibilities where remote medical care and treatment are all possible. 
3. Enhanced mobile broadband provides significantly faster and high speed data transfer and greater capacity of keeping the world connected. New applications will include fixed wireless internet access for homes, outdoor without the need for broadcast vans, and will have greater connectivity for people on the move. 
Disadvantages of 5G Technology: 
    In spite of several advantages of 5G technology, it also has several disadvantages and shortcomings, 
1. 5G technology is still under development and research on it is still viability going on. 
2. The speed that 5G technology is claiming to have seems difficult to achieve (in future, it might be) because of the incompetent technological and hardware support in most parts of the world at present. 
3. Most of the devices used today would not be competent to 5G, hence, all of them need to be replaced with new supporting devices. 
4. Developing 5G technology infrastructure needs high cost. 
5. Since 5G technology is still under development security and privacy issue still now is totally resolved solved. 
Availability of 5G technology: 
     5G is already in use, and global operators started launching new 5G networks in early 2019. 5G mobile network technology are expected to be available nationwide in many countries by the end of 2020. While it is hard to predict the exact time when everyone will have access to 5G network, we are seeing great momentum of 5G network launch in its first year than expected. 

Total 782 views