Postmodern meeting of PM Modi will be held with Putin after Chinfing, Russia will go on May 21.
In the southern Russian city of Sochi, there will be an informal meeting between PM Modi and Russian President Vladimir Putin.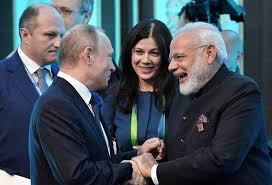 New Delhi:
 After an informal meeting in Wuhan with Chinese
President Xi Chunfing
,
PM Narendra Modi
is now going to meet with Russian President Vladimir Putin in a similar meeting. This meeting will take place on
May 21
in the city of
Sochi, Russia
. It is believed that this visit to
Modi-Chinfing
meeting will also prove to be a new thought in bilateral relations. By announcing the first non-formal meeting with Putin, India probably wants to send a message that its foreign policy is not affected by any other country's policies.
This meeting of Modi and Putin is not only important considering the relationship between these two countries, but its importance increases even after seeing the changes in the way in the recent months on the global scale. Recently, there has been a renewed eruption between Russia and the US. Russia has begun to impose new sanctions on Russia. The US recently broke nuclear deal with Iran and Russia is favored by Iran. In the meeting between Modi and Putin, the situation prevailed by these two steps of the US is expected to be discussed in detail. India still buys 63 percent of its defense requirement from Russia. Also, Russia has initiated the process of buying the S 400 missile which could have an impact on the US ban.

On behalf of the Ministry of External Affairs, it has been said that, "On the invitation of President Putin, Modi will reach the city of Sochi for an informal meeting with him, whereby the two leaders are going to strengthen the bilateral relations with the strategic partnership National development priorities will be discussed. "Let's say that Modi and Putin will be in Shanghai in the middle of next month, the Shanghai Cooperation Organization The meeting will also be held in the CSO meeting. But this particular meeting from Putin, earlier in the words of PM Modi, firmly tells that India is not with any single axis anymore.

It is also a remarkable fact that there has been no top-level meeting between India and the US in recent months. In April, 2018, there would be significant strategic dialogue with India and US led by the Defense and Foreign Ministers, but it has been postponed after the change of US Secretary of State. Foreign Ministry sources say that the most important of the agenda of the informal meeting of Modi and Putin will be how to remove the procrastination in recent years in the special relationship of the two countries. The issue of the American stand on Iran will definitely arise. India has started considering projects related to connectivity with Iran and Russia in recent months. But America is not positive about this.

VISHAL KUMAR
INTERNATIONAL REPORT
Total 492 views