North Korea's nuclear test of 10 times more powerful than a bomb dropped on Hiroshima
Scientists say that North Korea's nuclear test was 10 times stronger than a bomb dropped by the US on Hiroshima.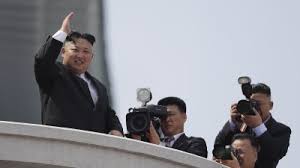 Singapore (Patra):
 Last year,
North Korea's
latest and largest underground nuclear test was so powerful that it could shake a mountain from its place. Scientists said that this nuclear test was
10 times
as powerful as a bomb dropped by the US on Hiroshima during
World War II
.
Nanyang Technological University and the University of California in Singapore showed how an explosion changed the upper part of the mountain. According to a study published in journal Science, a nuclear test was conducted at North Korea's nuclear test site on September 3, 2017, in North Korea. It shook the area in such a way that as if a 5.2-magnitude earthquake had occurred.

Based on seismic recordings from the global and regional networks, and before and after the surface radar measurement of ground surface radar measurement from Germany's Terasar-X and Japan's ALOS-2 radar imaging satellites, the researchers showed that the underground nuclear explosion caused Mount Mantap Increased the surface to 3.5 meters and reduced the mountain to about 0.5 meters. 

Through the model of the event on the computer, they were able to show 400-600 meters below the peak, the explosion and the location of its depth. The seismic incidents and aftershocks were also located after 8.5 minutes of the nuclear explosion, 700 meters south of this bomb blast. This is halfway between the site of the nuclear explosion and the tunnel entrance and may be due to the collapse of part of the tunnel or the cave of the remaining nuclear explosions.

VISHAL SINGH
INTERNATIONAL REPORT
Total 544 views