Japan: 155 deaths so far from the flood, rescue workers searching for victims from home
About 75 thousand soldiers and firemen have been deployed in the rescue work in Japan. Seven hundred helicopters have been installed in this work.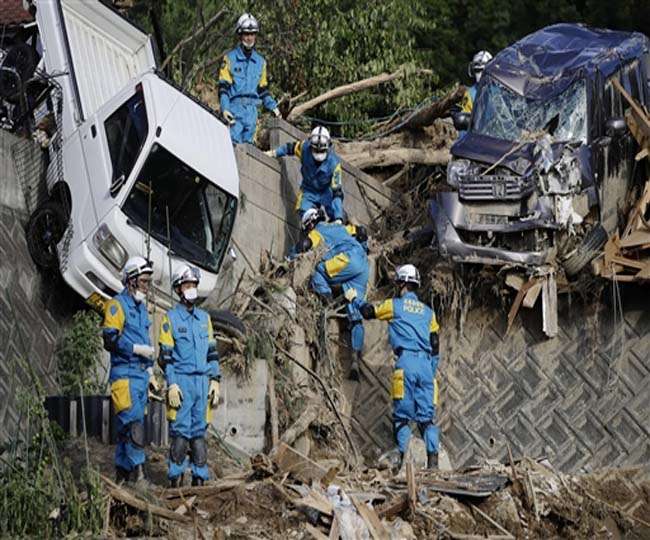 [Kurashiki]:
The number of
people killed
in
flood-hit
and landslide followed by heavy rains in the southwestern part of
Japan
has risen to
155
. Even now dozens of people are trapped in the flood. Rescuers are trying to get people safe from going home. About
75 thousand soldiers
and firemen have been deployed in rescue work. Seven hundred helicopters have been installed in this work.
Electricity has been restored in hundreds of homes but due to the lack of drinking water, it has not yet been fully dealt with. After the rain stopped, the temperature reached 33 degree Celsius. In this way about two lakh people are forced to live under the scorching sun without water. After landing the water, there is mud accumulation in roads and houses. Many buildings have collapsed. Meanwhile, the mother of Kurashiki, situated between the two rivers, has become submerged due to breaking the district dam. Most of the deaths have occurred in Hiroshima due to landslides. Due to the accumulation of debris, the water level of Hiroshima has increased greatly, after which people have been asked to go to the safe place.

Prime Minister Shinzo AB has announced a $ 315 million (about Rs 21,000 crore) funding for the worst floods of 36 years and 63 million dollars (about Rs 4334 crore) for infrastructure. The government has given its assurance of increase in the budget, if needed.

Vishal Singh
International Report
Total 476 views